Originally published in the Worcester Phoenix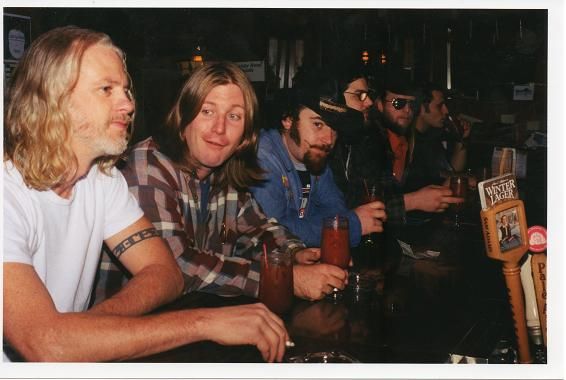 DAREDEVILS OF DRINK
Drunk Stuntmen Cheat Death at Ralph's
by Mal Thursday
When the Northampton-based Drunk Stuntmen – guitarists Steve Sanderson, Al Johnson, Terry Flood, bassist Scott "Bau Bau" Brandon, keyboard player Scott Hall, and drummer Dave (no relation to Fred) Durst – play Ralph's this Saturday night, it will be the band's first area appearance in over five years.
"Last time we played Worcester was at Ralph's, with a band called Chillum, as in the marijuana-smoking device," recalls Sanderson. "We ate cheeseburgers with 'em in the back room. They were good hippies: good band, and they ate burgers." Sanderson struggles to recall the band's only other Wormtown appearance. "We used to play the metal circuit back when we were a hippie band. We played this place with a bunch of pictures on the wall, what was it called?"
"Sir Morgan's Cove!," Johnson interjects.
"Yeah, we played to two people. The soundman and his girlfriend. But she wanted us."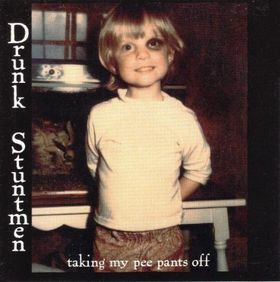 Originally from Taunton, the band migrated to Western Mass under the name Soup ("Bring a bowl for Soup!"), playing an open-ended blend of styles which found them lumped together with generic jam bands. A change of musical direction, and the existence of several other bands named Soup, led the group to rename themselves Drunk Stuntmen in early '97.
Later that year they released their first CD on Chunk Records, 'Taking My Pee Pants Off,' a lo-fi effort recorded in the band's basement rehearsal space. After three years and "a lot of money," the band released the follow-up disc 'More Bad News.' late last year.
Sanderson explains, "It's our first real record. We did it at [Amherst recording studio] Slaughterhouse with [producer-engineer] Mark Alan Miller. It's a journey. It doesn't hang on to any one style for too long. If you don't like the track you're listening to, the next one will be different."
Sanderson gets metaphorical as he tries to describe the eclectic collection of tunes. "It's a frolic through a garden of empty whiskey bottles, or more like dragging a rotting, dead horse through your neighbor's tulip bed, then sleeping with his wife."
In addition to recording and touring, the band has undertaken some impressive theatrical projects, most notably composing an original rock score for the 1924 silent film version of 'Peter Pan.'
"It's the best thing we've ever done," says Sanderson.
'Pan' isn't Drunk Stuntmen's only stage venture. The band has also contributed instrumentals for the Off-Broadway production of 'Seascape with Sharks and Dance,' and participated in the Northampton Arts Council's annual 'Transperformance' series, theme shows in which local musicians pay tribute to the music of legendary artists. Over the past several years, the Stuntmen have portrayed Hank Williams, David Bowie and the Spiders from Mars, Pink Floyd (performing Side One of 'The Wall' in its entirety), and The Clash. Next Summer, they're slated to interpret 'Pet Sounds'-era Beach Boys.
Which leads to the dreaded "influences' question, to which Sanderson responds, "I think we're somewhere between Willie Nelson and Thin Lizzy."
Hall: "Somewhere between Pink Floyd and Floyd Cramer."
Flood: "You could probably tell us what our influences are better than we could. We just try to write the best songs we can."
When asked about contemporary influences, Sanderson replies, "What does contemporary mean?"
"Any band who hasn't broken up yet," deadpans Johnson.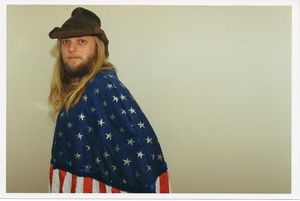 "Let's see," muses Sanderson, "The Cartoon Network, because I like to touch myself while watching 'The Powerpuff Girls.' Tom Petty. The Black Crowes."
The band's other contemporary influences can be found closer to home, in the Western Mass alt-country scene. "The Lonesome Brothers [Ray Mason and Jim Armenti] are the best. they're on another level," raves Flood.
As far as Central Massachusetts is concerned, Sanderson says, "Ralph's makes me feel at home. I haven't spent a whole lot of time in Worcester, but then again, I'm not home that much, either."
When not performing and recording with the Stuntmen, Sanderson has been on the road for the better part of the last year, serving as tour manager for hard-drinking retro-rockers The Unband. "It's the best babysitting job I've ever had. I even got to meet my idol, Don Dokken."
While on the road with the Unband, Steve has also had the opportunity to meet such diverse characters as Iggy Pop, Ian Hunter (of Mott the Hoople fame), and porn star Ron Jeremy, the infamous "Hedgehog."
So what should the audience at Ralph's expect on Saturday night? "We put on a great show," claims Sanderson. "And if anyone wants to buy us a round of Jack Daniel's, we'll give 'em the best version of 'Whiskey River' they've ever heard."
"Now if the bar doesn't have Jack Daniel's," adds Hall, "We'll take Old Grandad or Maker's Mark, but none of that Jim Beam shit."
The Stuntmen's current tour takes them from Springfield's Tic Toc Lounge on Friday to Ralph's on Saturday, then on to Chapel Hill, Atlanta, Nashville, and New Orleans. One stop the band won't be making is Austin, Texas, home of the massive South By Southwest music festival. "We just got our fourth straight rejection letter," Flood says proudly. "We're too good for 'em."
'More Bad News' was released on Natural Disaster Records, a label whose founder, Matt Hebert, fronts Ware River Club, co-headliners at the Ralph's show. "We're going to have a steel cage match with 'em between sets," quips Sanderson in an attempt to appeal to Worcester County wrestling fans. "They're the only band that could go three rounds with the Stuntmen."
"Ware River Club are great," enthuses Johnson. "I love their new record ['Don;t Take It Easy' on Natural Disaster]. I haven't been able to take it out of my CD player for weeks."
"That's because he got peanut butter on it," explains Flood.
After being together for nearly a decade, what keeps a band like Drunk Stuntmen going? Flood answers bluntly, "We've got nothing better to do."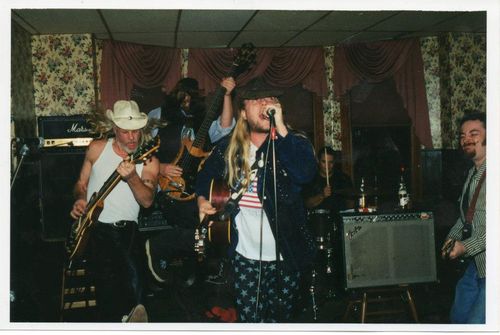 Drunk Stuntmen at Bay State Hotel 1999, L-R: Terry Flood, Scott Brandon, Steve Sanderson, J.J. O'Connell, and Alex Johsnon.
Photos by Miranda Brown