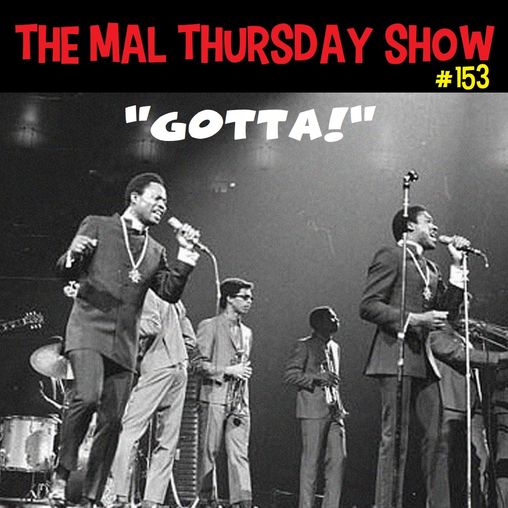 A weary Mal Thursday is back, bloody but unbowed, bringing you a boatload of boss beat numbers with "Gotta" in the title. This episode has gotta be one of the most rocking in the history of the program. Presented in Living Monophonic and Ultrasonic Stereophonic Sound.
Playlist:
KEVIN COUGHLIN: I Gotta Be Me
THE ZOMBIES: Gotta Get A Hold of Myself
THE ANIMALS: We've Gotta Get Out of This Place (Live)
THE KINKS: Gotta Get the First Plane Home
MANFRED MANN: If You Gotta Go, Go Now (BBC)
THE RATIONALS: I Gotta Go Now (Out on the Floor)
THE MOODY BLUES: People Gotta Go
HERMAN'S HERMITS: Gotta Get Away
BLUES MAGOOS: Gotta Get Away
THE WRECKING CREW: You Gotta Stop (Backing Track)
THE PLEASURE SEEKERS: Gotta Get Away
DANA GILLESPIE: You Just Gotta Know My Mind
NANCY SINATRA: I Gotta Get Out of This Town
THE RUNAWAYS: Gotta Get Out Tonight
THE VENTURES: I Got a Woman
THE REVERBERATIONS: Why You Gotta Be So Mean
THE SATELLITERS: It's Gotta Be You
THE FLESHTONES: I Gotta Change My Life
THE WASPMEN: I Gotta a Feeling
JIM JONES REVUE: It's Gotta Be About Me
THE DIRTY STRANGERS: You Gotta Shake
NILSSON: Gotta Get Up
THE YO-YOs: Gotta Find a New Love
THE CHOCOLATE BALLOON CO.: Gotta Get This
QUESTION MARK & THE MYSTERIANS: Got to
THE RIDERS OF THE MARK: Gotta Find Somebody
THE MALIBUS: I Gotta Go
THE UNION JACKS: I Gotta Go
THE SPATS: Gotta Tell Ya All About It, Baby
13TH FLOOR ELEVATORS: You Gotta Take That Girl
SIR DOUGLAS QUINTET: She's Gotta Be Boss
SAM & DAVE: That's the Way It's Gotta Be
THE DITALIANS: I Gotta Go
THE BOBBETTES: I've Gotta Face This World
EDDIE FLOYD: If You Gotta Make a Fool of Somebody
BOOKER T. & THE MGs: Gotta Serve Somebody
THE CREATION FACTORY: I Wanna Be With You
YOD CREWSY & THE DARK MARBLES: It's Too Bad
THE EMBROOKS: Hang Up
JIM BASNIGHT: Best Lover in the World
THE CHERRY DROPS: One More Try
ARTHUR LEE: Everybody's Gotta Live
You can donate to the show via PayPal or via Patreon.
Tune into The Mal Thursday Show every Tuesday at 8 pm UK, and late nights Thursday, Saturday, and Sunday on Trash Can Radio, London; Thursdays 10 pm Eastern on Surf 97.3 FM; Fridays 7 pm Europe, 6 pm UK, 1 pm ET with rebroadcasts Saturday and Sunday on Radio LUX.
The Mal Thursday Quintet Bandcamp page