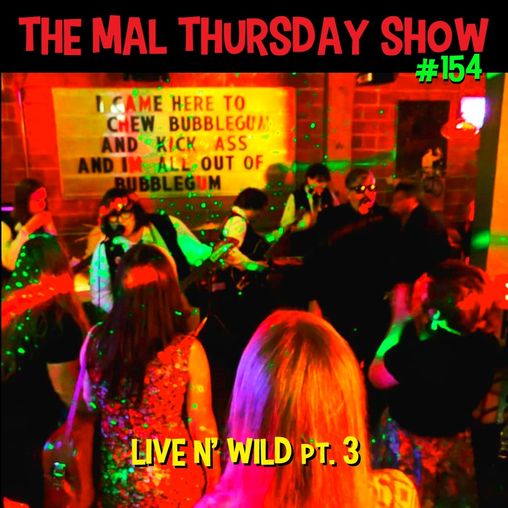 Mal Thursday presents another two hours of rock n' roll recorded live in the wild. This time out, it's garage rock recordings from the '80s to the present, including radio broadcasts, B-sides, and several from Cavestomp, the Garage Rock Festacular. The second half of the show is devoted to The Mal Thursday Quintet Live at 13th Floor Lounge, recorded 22 March 2019 in beautiful downtown Florence, Massachusetts. Presented in Living Monophonic and Ultrasonic Stereophonic Sound. Originally broadcast 18 April 2018.
You can donate to the show via PayPal or via Patreon.
Playlist:
THE SATELLITERS: Abba (2007)
THE MONKS: Monk Time/Boys Are Boys (Cavestomp 2000)
THE CHOCOLATE WATCHBAND: Blues Theme/Gone and Passes By
(Are You Gonna Be There) At the Love-In (Cavestomp 1999)
QUESTION MARK & THE MYSTERIANS: Do You Feel It
LYRES: Seven (Cavestomp 1997)
Busy Body/What a Girl Can't Do (WERS 1983)
Don't Give It Up Now (Cantone's 1981)
THE EMBROOKS: Standing Upside Down (WFMU 2003)
THE FLESHTONES: Feels Like a Woman (Dirty Water Club 2005)
PLAN 9: B3-11 (The Rat 1985)
THE MARSHMALLOW OVERCOAT: Beverly Pepper (2017)
THE CHESTERFIELD KINGS: Up and Down (2009)/Louie Go Home (with MARK LINDSAY 1999)
MUCK & THE MIRES: It's About Over You (Asbury Lanes 2007)
THE MAL THURSDAY QUINTET: Live at 13th Floor Lounge (2019)
Rumble/Brightness
Once Upon a Time (In Your Mind)
Torn Up/That's Your Problem
Standing on the Corner
Joke's on Me (bed)
Lady in a Cage
Flagrante Delicto
Why Do I Cry (with RAY MASON)
O Lucky Man! (bed)
Sky Wild/Get Outta Dallas!
Filthy Rich
THE UNTOLD FABLES: It's a Cry'n Shame (Safari Sam's 1985)
Tune into The Mal Thursday Show every Tuesday at 8 pm UK, and late nights Thursday, Saturday, and Sunday on Trash Can Radio, London; Thursdays 10 pm Eastern on Surf 97.3 FM; Fridays 7 pm Europe, 6 pm UK, 1 pm ET with rebroadcasts Saturday and Sunday on Radio LUX.
The Mal Thursday Quintet Bandcamp page
SUBSCRIBE TO THE MAL THURSDAY SHOW | SUBSCRIBE TO RADIO MUTATION | TWITTER | FACEBOOK | THE MAL THURSDAY SHOW PODCAST ARCHIVES