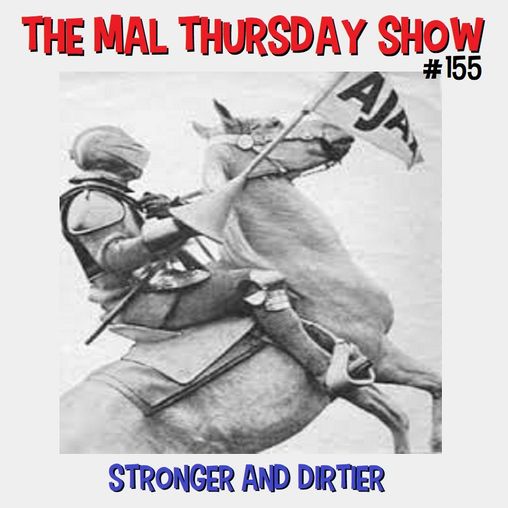 Mal Thursday recently made his Austin radio debut as guest DJ and curator of the April 13th edition of Scott Gardner's long-running "Stronger Than Dirt" radio program on KOOP-FM (Saturday nights from 8 to 10 p.m. Central, streaming at koop.org). This episode of The Mal Thursday Show presents super-charged versions of the sets spun on that fateful night. Presented in Living Monophonic and Ultrasonic Stereophonic Sound. Originally broadcast 2 May 2019.
You can donate to the show via PayPal or via Patreon.
Playlist:
THE FLOYD DAKIL FOUR: Stronger Than Dirt
SOUL INC.: Stronger Than Dirt
THE MAL THURSDAY QUINTET: Don't Want You Either
LONELY MOANS: Rotting
THE SPATS: The Bottom of It All
TOM KING & THE STARFIRES: Stronger Than Dirt (bed)
THE MUSIC MACHINE: No Girl Gonna Cry
THE ASSOCIATION: Like Always
JAKE STARR & THE DELICIOUS FULLNESS: Biff Bang Pow
THE CREATION: Through My Eyes
CAT STEVENS: Baby, Get Your Head Screwed On
THE PRETTY THINGS: S.F. Sorrow (BBC)
FIRE: Father's Name Was Dad
LYRES: Go Go Girl
THE CARAVELLES: Lovin' Just My Style (bed)
JACKIE LYNTON: La Ballata di Hank McCain
ENNIO MORRICONE: La Ballata di Hank McCain (bed)
TIGER BOMB: Gimme One More Chance
DENISE: Boy, What'll You Do Then
KAREN VERROS: You Just Gotta Know My Mind
ANN-MARGRET: I Just Don't Understand
THEE GIRL FRIDAYS: The Love Witch
SILVERHEAD: Sixteen and Savaged
MOTT THE HOOPLE: American Pie/The Golden Age of Rock n' Roll
THE DIRTY STRANGERS: South of the River
THE EMBROOKS: Nightmare
SHAPES HAVE FANGS: Nobody's There
THE REVERBERATIONS: Alice Dee
TIME ZONE: Space Walker (bed)
THE REASONS WHY: Don't Be That Way
CIRCUS: Burn Witch Burn
NEAL FORD & THE FANATICS: Better Slow Down
THE SATELLITERS: Lost in Time
THE PLAYBOYS OF EDINBURGH: Wish You Had a Heart
THE HIGHER STATE: My Time
THE BLIND OWLS: There Goes My Girl
THE ANIMATED EGG: A Love Built on Sand (bed)
THE BEAT BUDDIES: Pins in My Heart
THE MOTIONS: Everything That's Mine
THE OUTSIDERS: Do You Feel Alright?
THE NEW YORK DOLLS: It's Too Late
Tune into The Mal Thursday Show every Tuesday at 8 pm UK, and late nights Thursday, Saturday, and Sunday on Trash Can Radio, London; Thursdays 10 pm Eastern on Surf 97.3 FM; Fridays 7 pm Europe, 6 pm UK, 1 pm ET with rebroadcasts Saturday and Sunday on Radio LUX.
The Mal Thursday Quintet Bandcamp page
SUBSCRIBE TO THE MAL THURSDAY SHOW | SUBSCRIBE TO RADIO MUTATION | TWITTER | FACEBOOK | THE MAL THURSDAY SHOW PODCAST ARCHIVES