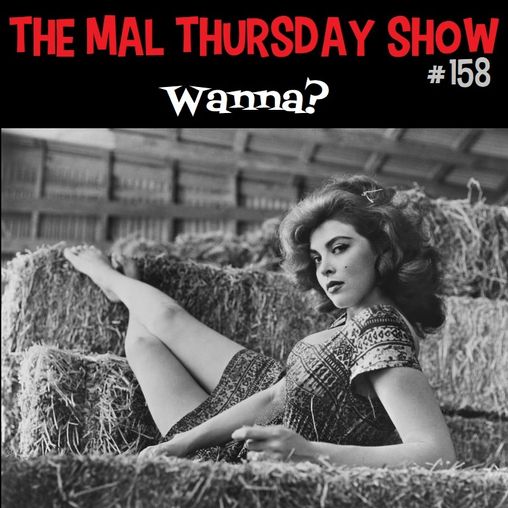 On this thoroughly kick-ass installment of The Mal Thursday Show, Mal presents songs with "Wanna" in the title. It's garage, punk, soul, rock n' roll, and a whole lotta Wanna. Also, recent releases from ANC4, Brad Marino, The Jackets, and more, plus a wild trip in Mal Thursday's Texas Tyme Machine. Presented in Living Monophonic and Ultrasonic Stereophonic Sound. Originally broadcast 13 June 2019.
You can donate to the show via PayPal or via Patreon.
Playlist:
THE SOFT BOYS: I Wanna Destroy You
THE MOST: Do You Wanna Know
THE EYES: I Wanna Be Your Man
BOB DYLAN: I Wanna Be Your Lover
THE COBRAS: I Wanna Be Your Love
YESTERDAYS CHILDREN: I Wanna Be With You
THE SORROWS: I Don't Wanna Be Free
BUD SHANK: I Wanna Be Free
THE HEARTBREAKERS: I Wanna Be Loved
JONATHAN RICHMAN & THE MODERN LOVERS: I Wanna Sleep in Your Arms
KURT BAKER: I Don't Want to Get Involved With You
THE CRAWDADDYS: I Wanna Put a Tiger in Your Tank
THE BEACH BOYS: All I Wanna Do (early version)
THE MOVING SIDEWALKS: I Wanna Hold Your Hand
13th FLOOR ELEVATORS: I Don't Ever Want to Come Down
THE PASTELS: Yeah I Wanna Know
NEAL FORD & THE FANATICS: Mary Wanna Marry Me
THE PARLIAMENTS: I Wanna Testify
STEVIE WONDER: I Wanna Make Her Love Me
ETTA JAMES: I Just Wanna Make Love to You
EDDIE & THE HOT RODS: Do Anything You Wanna Do
THE CRAMPS: I Wanna Get in Your Pants
THE JUMPERS: (I Wanna Know) What's Going On
THE STOOGES: I Wanna Be Your Dog
DEAD BOYS: I Don't Wanna Be No Catholic Boy
THE BEACH BOYS: Do You Wanna Dance (backing track)
THE RAMONES:
I Wanna Be Sedated
I Don't Wanna Go Down to the Basement
Now I Wanna Be a Good Boy
I Wanna Be Your Boyfriend
I Don't Wanna Walk Around with You
I Don't Wanna Grow Up
I Wanna Live
THE VENTURES: I Wanna Be Sedated
ELECTRIC FRANKENSTEIN: Dead on Beauty
THE JACKETS: Dreamer
THE EMBROOKS: Have You Ever Loved Somebody
BRAD MARINO: Broken Clocks
ANC4: You're the One
THE SOUTHERN SOUND: I Don't Wanna Go
Tune into The Mal Thursday Show every Tuesday at 8 pm UK, and late nights Thursday, Saturday, and Sunday on Trash Can Radio, London; Thursdays 10 pm Eastern on Surf 97.3 FM; Fridays 7 pm Europe, 6 pm UK, 1 pm ET with rebroadcasts Saturday and Sunday on Radio LUX.
The Mal Thursday Quintet Bandcamp page
SUBSCRIBE TO THE MAL THURSDAY SHOW | SUBSCRIBE TO RADIO MUTATION | TWITTER | FACEBOOK | THE MAL THURSDAY SHOW PODCAST ARCHIVES