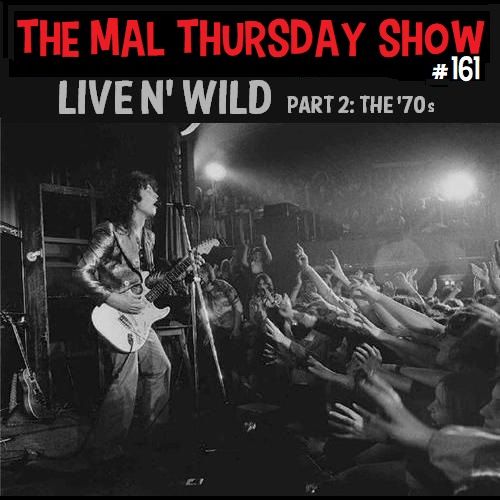 Mal Thursday presents Part 2 in the LIVE N' WILD series, in search of the best live rock n' roll recordings in existence. Part One was the 1960s, so this week it's the 1970s. Hard rock, Heavy Rock, Glitter, Glam. Punk, New Wave, and more. Presented in Ultrasonic Stereophonic Sound. Originally broadcast Summer 2015.
You can donate to the show via PayPal

Playlist:
BIG STAR:
MC5: Kick Out the Jams
T. REX: Jeepster/Telegram Sam
DAVID BOWIE: Moonage Daydream/Ziggy Stardust/Rock n' Roll Suicide
MOTT THE HOOPLE: All the Young Dudes
PRESTON WAYNE FOUR: Summer Nationals
IGGY POP: Lust for Life
LOU REED: Vicious
BLONDIE: Rip Her to Shreds
THE RUNAWAYS: Cherry Bomb
THE RAMONES: Beat on the Brat
THE HEARTBREAKERS: Chinese Rocks
PATTI SMITH GROUP: Gloria (In Excelsis Deo)
THE UGLY BEATS: Motor!
SEX PISTOLS: Submission
EDDIE & THE HOT RODS: 96 Tears
NICK LOWE: Heart of the City
ELVIS COSTELLO & THE ATTRACTIONS: Mystery Dance/You Belong to Me

Tune into The Mal Thursday Show every Tuesday at 8 pm UK, and late nights Thursday, Saturday, and Sunday on Trash Can Radio, London; Thursdays 10 pm Eastern on Surf 97.3 FM; Fridays 7 pm Europe, 6 pm UK, 1 pm ET with rebroadcasts Saturday and Sunday on Radio LUX.
The Mal Thursday Quintet Bandcamp page