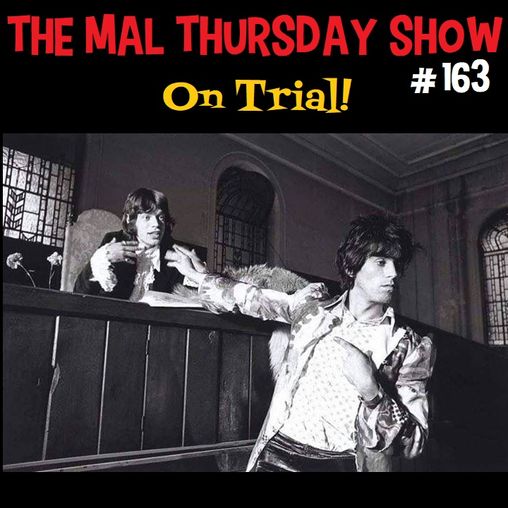 Mal Thursday presents a rock n' roll courtroom drama in The Mal Thursday Show: On Trial! It's a legally binding high-concept episode with songs featuring judges, lawyers, defendants, and witnesses, played by an all-star cast of groovemakers. Special Expanded Edition: Director's Cut. Presented in Ultrasonic Stereophonic and Living Monophonic Sound. A different version of this episode originally aired 17 October 2019.
You can donate to the show via PayPal
THE MERSEYBEATS: I Stand Accused
THE PARLIAMENTS: I Wanna Testify
MARVIN GAYE: Can I Get a Witness
THE FEELIES: Time for a Witness
THE FOUNTAIN OF YOUTH: Witness People
THE ROLLING STONES: Now I've Got a Witness
THE JUDGES: Judge and Jury
THE SUN SET: Don't Judge Me Baby
THE YELLOW PAYGES: Judge Carter
CHANCELLORS LTD: You Be the Judge
MOBY GRAPE: Murder in My Heart for the Judge
THEE MIGHTY CAESARS: I Can Judge a Daughter
THE MAJESTICS: Here Comes de Judge
PAUL REVERE  AND THE RAIDERS featuring MARK LINDSAY: Judge GTO
PIGMEAT MARKHAM: Here Comes the Judge/Sock it to Em Judge/The Hip Judge
BUDDY MORROW: Perry Mason Theme
FOUNTAINS OF WAYNE: California Sex Lawyer
THE FOURMOST AUTHORITY: Left Hand Lawyer
WARREN ZEVON: Lawyers, Guns, and Money
GARLAND JEFFRIES: Innocent, Not Guilty
THE FALLING LEAVES: Not Guilty
NICKY & THE SHOUTS: Guilty Man
DMZ: Guilty Child
INEZ & CHARLIE FOXX: Guilty
DEWEY COX (JOHN C. REILLY): Guilty as Charged
THE ROLLING STONES: We Love You
Tune into The Mal Thursday Show every Tuesday at 8 pm UK, and late nights Thursday, Saturday, and Sunday on Trash Can Radio, London; Thursdays 10 pm Eastern on Surf 97.3 FM; Fridays 7 pm Europe, 6 pm UK, 1 pm ET with rebroadcasts Saturday and Sunday on Radio LUX.
The Mal Thursday Quintet Bandcamp page
TWITTER | FACEBOOK | THE MAL THURSDAY SHOW PODCAST ARCHIVES