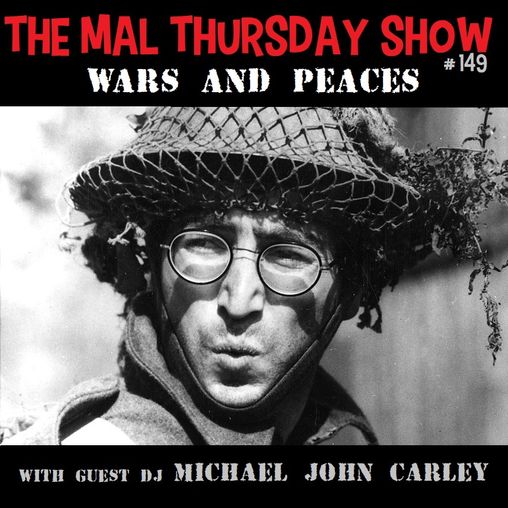 Mal Thursday is back with another high concept edition of The Mal Thursday Show. This time out, it's songs about war and peace, well, war mostly. Guest DJ Michael John Carley joins Mal in the second hour of the program with Viet Nam songs and other variations on the theme. Presented in Living Monophonic and Ultrasonic Stereophonic Sound. Originally broadcast 14 February 2019.
Please donate to the show via PayPal or via Patreon.
Playlist:
THE TEMPTATIONS: War
THE MERRY-GO-ROUND: Gonna Fight the War
THE TALISMEN: Masters of War
ELVIS PRESLEY: G.I. Blues
THE CLASH: English Civil War (Johnny Comes Marching Home)/Hate and War
MAN OR ASTROMAN?: War of the Satellites
THE GRIPWEEDS: How I Won the War
JOHN LENNON: I Don't Want to Be a Soldier Mama I Don't Want to Die
BOB SEGER & THE LAST HEARD: 2+2=?
THE REHABILITATION CRUISE: I Don't Care What They Say
THE MADD: War or Hands of Time
THE MONKEES: Last Train to Clarksville
THE RAMRODS: War Party
THE HEDGEHOGS: Peace in My Mind
THE LOVE FLOWERS: Peace and Love
CURTIS MAYFIELD: We Gotta Have Peace
WILLIAM BELL: Marching Off to War
PHIL OCHS: I Ain't Marching Anymore (Electric Version)
FEAR: Let's Have a War
SGT. BARRY SADLER: Little Bird of Viet Nam
NEW YORK DOLLS: Vietnamese Baby
BRASS AGAINST: War Pigs
DEAD KENNEDYS: Holiday in Cambodia
THE SEX PISTOLS: Holidays in the Sun
AMY WINEHOUSE: Some Unholy War
LEONARD COHEN: The Partisan
THE WHO: Won't Get Fooled Again
WORLD SAXOPHONE QUARTET: Machine Gun
THE MALARIANS: A Taste of Five
THE KINKS: Some Mother's Son
SCOTT WALKER: Next!
Tune into The Mal Thursday Show every Tuesday at 8 pm UK, and late nights Thursday, Saturday, and Sunday on Trash Can Radio, London; Thursdays 10 pm Eastern on Surf 97.3 FM; Fridays 7 pm Europe, 6 pm UK, 1 pm ET with rebroadcasts Saturday and Sunday on Radio LUX.
The Mal Thursday Quintet Bandcamp page!