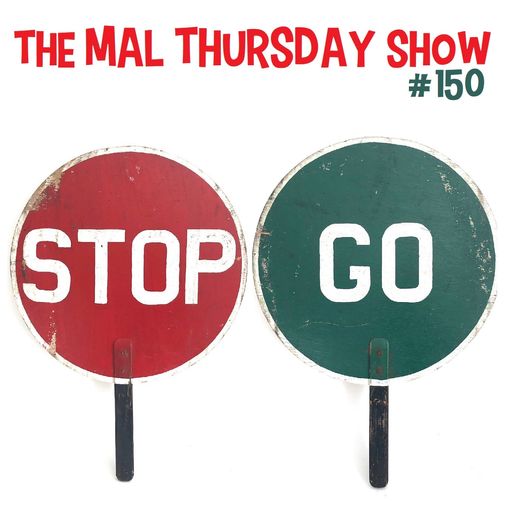 To celebrate the 150th episode of The Mal Thursday Show podcast, Mal once again makes the musical magic happen with the thinnest of premises: songs with Stop and/or Go in the title. That's the gimmick, and it makes for a garage-centric episode, heavy on the fuzz. Presented in Living Monophonic and Ultrasonic Stereophonic Sound. Originally broadcast 21 February 2019.
Hey kids! You can donate to the show via PayPal or via Patreon.
Playlist:
THE SCENE: Stop Go
ELVIS PRESLEY: Stop, Look and Listen
THE CLIQUE: Stop, Look, and Listen
THE ID: Stop and Look
THE HEARD: Stop It Baby
TIGER BOMB: Can't Stop
THE SHAGG: Stop and Listen
THE PHIL UPCHURCH GUITAR SOUND: Stop and Listen
HOWARD TATE: Stop
THE MOVE: Stop and Get Ahold of Myself (BBC)/Wave Your Flag and Stop the Train
THE HOLLIES: Bus Stop (BBC)/Stop, Stop, Stop
THE CLEFS OF LAVENDER HILL: Stop! Get a Ticket
MARGIE JOSEPH: Stop! In the Name of Love
THE VENTURES: Stop Action
THE WOGGLES: Nothing's Gonna Stop Me
THE CANADIAN ROGUES: You Better Stop
THE MALTESE: You Better Stop
HUNT SALES MEMORIAL: I Can't Stop
TOMMY BOYCE: Let's Go Where the Action Is
THE ANIMALS: Club a Go Go
THE SHANDELLS: Go Go Gorilla
JOHN'S CHILDREN: Go Go Girl
THE YOUNG MEN: Go Away Girl
THE BEDFORDE SET: Girl Go Run Away
THE UNRELATED SEGMENTS: Where You Gonna Go
THE WRONG NUMBERS: I'm Gonna Go Now
THE VENTURES: Go Go Slow
THE MILE ENDS: Bottle Up and Go
MUCK & THE MIRES: You Shouldn't Have Let Her Go
THE ROLLING STONES: Let Me Go
THEM: Baby, Please Don't Go/Go on Home, Baby
MANFRED MANN: If You Gotta Go, Go Now
BESSIE BANKS: Go Now
BILLY PRESTON: Go Now
THE REAL KIDS: The Girl Don't Get Me
THE HIGHER STATE: Ten Clear Petals
THE REVERBERATIONS: So Strange
RICHARD & THE YOUNG LIONS: Open Up Your Door
RUNHIDEFIGHT: He's a Jerk
DEAN LANDEW: Happy Valentine's Day
THE SHY GUYS: We Gotta Go
Tune into The Mal Thursday Show every Tuesday at 8 pm UK, and late nights Thursday, Saturday, and Sunday on Trash Can Radio, London; Thursdays 10 pm Eastern on Surf 97.3 FM; Fridays 7 pm Europe, 6 pm UK, 1 pm ET with rebroadcasts Saturday and Sunday on Radio LUX.
The Mal Thursday Quintet Bandcamp page!
SUBSCRIBE TO THE MAL THURSDAY SHOW | SUBSCRIBE TO RADIO MUTATION | TWITTER | FACEBOOK | THE MAL THURSDAY SHOW PODCAST ARCHIVES