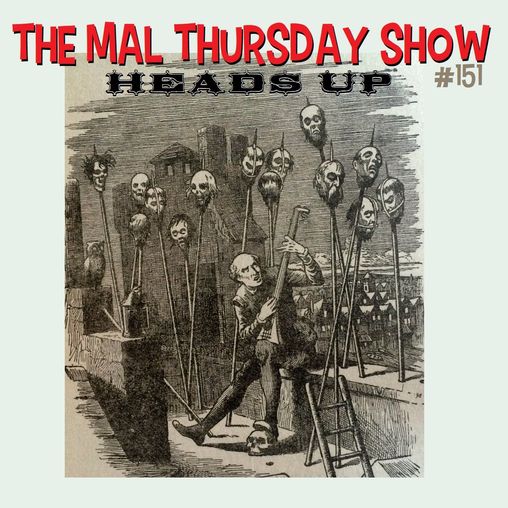 Mal Thursday presents two hours of boss tunes with the word "Head" in the title. It's a heady brew of garage, punk, and other wild sounds for your listening and dancing pleasure. Presented in Living Monophonic and Ultrasonic Stereophonic Sound. Originally broadcast, in slightly different form, on 7 March 2019.
Please donate to the show via PayPal or via Patreon.
Playlist:
THE SONICS: You Got Your Head on Backwards
CAT STEVENS: Baby Get Your Head Screwed On
THE DOUBLE FEATURE: Baby Get Your Head Screwed On
THE BELLRAYS: They Glued Your Head on Upside Down
THE WAILERS: You Weren't Using Your Head
ANN-MARGRET: You Turned My Head Around
LES FLEUR DE LYS: Hammer-Head
THE MONKEES: Tear the Top Right Off My Head
THE ZOMBIES: Goin' Out of My Head (BBC)
JOHN FRED: Outta My Head
THE ROMANTICS: Out of My Mind (Into My Head)
THE MIRACLE WORKERS: Out of My Head
DEADBOLT: Raindrops Keep Fallin' on My Head
Mal Thursday's Texas Tyme Machine
LARRY ROQUEMORE: What Made Me Lose My Head
THE CHILDREN: Pills (She Went to My Head)
THE SONS OF HERCULES: Heads Up
KASHMERE STAGE BAND: Head Wiggle
RITCHIE VALENS: Ooh, My Head
THE COASTERS: Idol with a Golden Head
ELVIS PRESLEY: Hard Headed Woman
FLEETWOOD MAC: Somebody's Gonna Get Their Head Kicked in Tonight
THE VELVET UNDERGROUND: Head Held High (alt mix)
MIKE RABIN & THE DEMONS: Head Over Heels
THE STYLOS: Head Over Heels
THE GO-GOS: Head Over Heels
TUFF DARTS: Head Over Heels
THE SUNDAY FUNNIES: Headlines
THE VENTURES: Diamond Head
FLAMIN' GROOVIES: Teenage Head
PRIMAL SCREAM: Gimme Gimme Teenage Head
DAVID BOWIE: Sweet Head
NERVOUS EATERS: Just Head
THE HOODOO GURUS: Head in the Sand
THE ALAN MILMAN SECT: Stitches in My Head/I Wanna Kill Somebody
THE BREAKERS: Beach Head
THE FLESHTONES: Headlock on My Heart
THE FUZZTONES: Johnson in a Headlock
STUPIDITY: I Need You…Like a Hole in the Head
THE SATELLITERS: Gotta Get You (Out of My Head)
ROKY ERICKSON & THE EXPLOSIVES: Red Temple Prayer (Two Headed Dog)
GINNY ARNELL: Dumb Head
Tune into The Mal Thursday Show every Tuesday at 8 pm UK, and late nights Thursday, Saturday, and Sunday on Trash Can Radio, London; Thursdays 10 pm Eastern on Surf 97.3 FM; Fridays 7 pm Europe, 6 pm UK, 1 pm ET with rebroadcasts Saturday and Sunday on Radio LUX.
The Mal Thursday Quintet Bandcamp page!
SUBSCRIBE TO THE MAL THURSDAY SHOW | SUBSCRIBE TO RADIO MUTATION | TWITTER | FACEBOOK | THE MAL THURSDAY SHOW PODCAST ARCHIVES