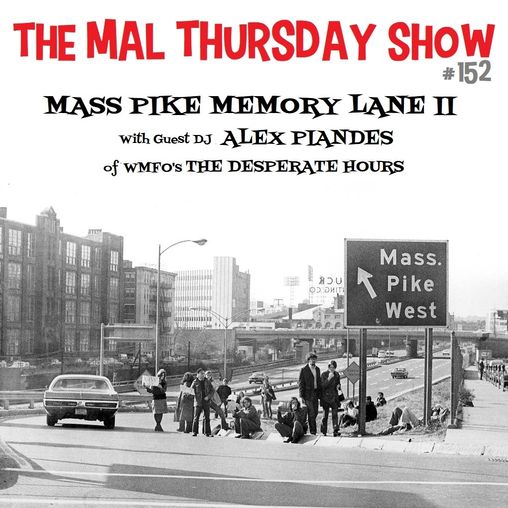 The long-rumored sequel to The Mal Thursday Show #53 is finally here, with Mal joined by guest DJ Alex Piandes of WMFO's The Desperate Hours for another trip down Mass Pike Memory Lane. Presented in Living Monophonic and Ultrasonic Stereophonic Sound. Originally broadcast 14 March 2019.
If you're in the vicinity, don't miss The Mal Thursday Quintet, The Feldons, and Ray Mason at 13th Floor Music Lounge in Florence, Mass. Friday March 22, 2019 at 9 p.m.
Playlist:
THE BYRDS: Boston
SAM THE SHAM & THE PHAROAHS: Banned in Boston
RICHARD ANTHONY & THE BLUE NOTES: The Boston Monkey
THE STANDELLS: Dirty Water (Live)
LYRES: How Do You Know
THE PRIME MOVERS: Where We All Come From
THE NEW BREED: Wasting My Time
THE LAST ONES: Number One Again
THE BLACKJACKS: That's Why I Always Dress in Black
THE NEATS: Red and Grey
BOY'S LIFE: It Came From Here
THE NERVOUS EATERS: Hot Steel and Acid
TRIPLE THICK: Alright (She's Alright)
THE DOGMATICS: King-Size Cigarette
THE TURBINES: Rock in My Pocket
DOWNBEAT FIVE: My Way
THE CLASSIC RUINS: Let's Get Dull
THE REMAINS: Hang On Sloopy
THE LOST: No Reason Why
THE SHYRES: Where Is Love
TRAVIS PIKE'S TEA PARTY: If I Didn't Love You Girl
STEVE WALKER & THE BOLD: Train Kept a Rollin'
THE ROCKIN' RAMRODS: Play It
WILLIE "LOCO" ALEXANDER: At the Rat
THE REAL KIDS: Better Be Good/All Kindsa Girls
DMZ: Lift Up Your Hood
PLAN 9: I'm Gone
THE VOODOO DOLLS: Gone, Gone, Gone
THE VENTURES: The Rat
MAL THURSDAY & THE CHEETAHS: Torn Up
THE DEL FUEGOS: Don't Run Wild
ROBIN LANE & THE CHARTBUSTERS: When Things Go Wrong
THE DREAM SYNDICATE: Boston
You can donate to the show via PayPal or via Patreon.
Tune into The Mal Thursday Show every Tuesday at 8 pm UK, and late nights Thursday, Saturday, and Sunday on Trash Can Radio, London; Thursdays 10 pm Eastern on Surf 97.3 FM; Fridays 7 pm Europe, 6 pm UK, 1 pm ET with rebroadcasts Saturday and Sunday on Radio LUX.
The Mal Thursday Quintet Bandcamp page
SUBSCRIBE TO THE MAL THURSDAY SHOW | SUBSCRIBE TO RADIO MUTATION | TWITTER | FACEBOOK | THE MAL THURSDAY SHOW PODCAST ARCHIVES