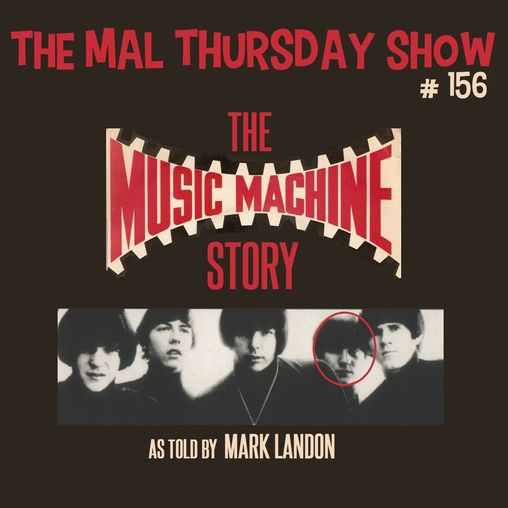 Mal Thursday welcomes lead guitarist, race car driver, and Emmy-winning make-up artist Mark Landon to tell "The Music Machine Story," the true tale of the L.A.-based '60s band led by the late Sean Bonniwell, featuring future Grammy-winning Hall of Fame producer Keith Olsen on bass, Doug Rhodes on organ, and Ron Edgar on the drums. It's essential rock n' roll oral history, heavy on the fuzz guitar. Presented in Living Monophonic and Ultrasonic Stereophonic Sound. Originally broadcast 9 May 2019.
You can donate to the show via PayPal or via Patreon.
Playlist:
THE MUSIC MACHINE: Trouble
THE PURPLE GANG: Bring Your Own Self Down
THE RAGAMUFFINS: Talk Me Down
THE MUSIC MACHINE:
Talk Talk
The People in Me
Taxman
Masculine Intuition
CC Rider
Come on in
The Eagle Never Hunts the Fly
Wrong
IKE & TINA TURNER REVUE with THE IKETTES: I Want to Take You Higher
THE MUSIC MACHINE: Hey Joe


Tune into The Mal Thursday Show every Tuesday at 8 pm UK, and late nights Thursday, Saturday, and Sunday on Trash Can Radio, London; Thursdays 10 pm Eastern on Surf 97.3 FM; Fridays 7 pm Europe, 6 pm UK, 1 pm ET with rebroadcasts Saturday and Sunday on Radio LUX.
The Mal Thursday Quintet Bandcamp page
SUBSCRIBE TO THE MAL THURSDAY SHOW | SUBSCRIBE TO RADIO MUTATION | TWITTER | FACEBOOK | THE MAL THURSDAY SHOW PODCAST ARCHIVES