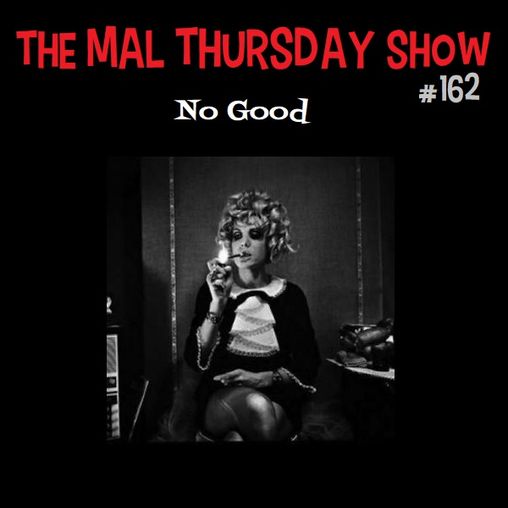 Mal Thursday presents music for the nogoodniks, all songs with "No Good" in the title and/or in the grooves. '60s garage, soul, and rock n' roll of the finest order. Originally broadcast September 2019.
You can donate to the show via PayPal
Playlist:
THE MOON DAWGS: You're No Good
THE TREE: No Good Woman
SEAN & THE BRANDYWINES: She Ain't No Good
THE CYCLONES: She's No Good
THE WHAT FOUR: No Good for Me
THOSE BOYS: No Good Girl
TERRY & TOMMY: It Ain't No Good to Love Anybody
THE VENTURES: The Good, The Bad, and The Ugly
THE SATELLITERS: No Good Without You
THE FIVE MORE: I'm No Good
THE TODES: Good Things
THE TALES OF THE CITY: The Good's Gone
THE MERRY GO ROUND: A Clown's No Good
HOUR GLASS: No Good to Cry
BOOKER T. & THE MGs: Don't Mess Up a Good Thing
THE CRAMPS: People Ain't No Good
THE DERBYS: People Say (She's No Good)
THE HUMAN BEINGS: You're Bad News
STIX & STONZ: Bad News
THE 49th PARALLEL: Up to No Good
THE MALARIANS: Up to No Good
THE ELITE UFO: Now Who's Good Enough
MUCK & THE MIRES: Good Enough
BETTY EVERETT: You're No Good
MAL THURSDAY & THE TREE: No Good Woman


Tune into The Mal Thursday Show every Tuesday at 8 pm UK, and late nights Thursday, Saturday, and Sunday on Trash Can Radio, London; Thursdays 10 pm Eastern on Surf 97.3 FM; Fridays 7 pm Europe, 6 pm UK, 1 pm ET with rebroadcasts Saturday and Sunday on Radio LUX.
The Mal Thursday Quintet Bandcamp page