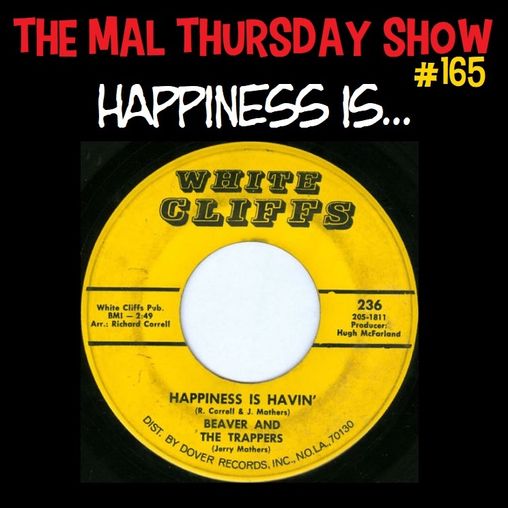 Mal Thursday returns with another high concept episode for your ears and minds. This time out, the words of the week are Happy and Happiness, which makes for a stellar episode showcasing a mix of the celebrated and the obscure. Presented in Ultrasonic Stereophonic and Living Monophonic Sound. Originally broadcast, in truncated form, on 21 November 2019.
You can donate to the show via PayPal
Playlist:
THE MERRY GO ROUND: Listen Listen!
THE HOLLIES: Listen Here to Me/Listen to Me
THE GREMLINS: Listen to Me
THE SMITHEREENS: Listen to Me Girl
THE BLUES MAGOOS: I Can Hear the Grass Grow
EDDIE HARRIS: Listen Here
BUDDY HOLLY & THE CRICKETS: Listen to Me
THE CRICKETS: Now Hear This
ZAKARY THAKS: Can You Hear Daddy's Footsteps
JOE TEX: Stop Look and Listen
TOM PETTY & THE HEARTBREAKERS: Listen to Her Heart
THE RAMONES: Listen to My Heart
DEE RANGERS: Listen to Me
THE OUTSIDERS: Won't You Listen
THE ARTWOODS: Can You Hear Me
THE LEVIS: Hear What I Say
THE CLIQUE: Stop Look and Listen
SLY & THE FAMILY STONE: Let Me Hear It From You
GOLDIE & THE GINGERBREADS: Can't You Hear My Heartbeat
HU & THE HILLTOPS: Can You Hear Me
THE ROLLING STONES: Can't You Hear Me Knocking
DAVE EDMUNDS: I Hear You Knocking
THE MYSTREATED: Listen
OASIS: Listen Up
CREEDENCE CLEARWATER REVIVAL: I Heard It Through the Grapevine
THE COOLIES: Yeah I Don't Know
THE UGLY BEATS: All In/Boy You're in Love
MAL THURSDAY with NEAL FORD & THE FANATICS: Every Night a New Surprise
THE REVERBERATIONS: Footsteps
THE ACCELERATORS: Out of Control

Tune into The Mal Thursday Show every Tuesday at 8 pm UK, and late nights Thursday, Saturday, and Sunday on Trash Can Radio, London; Thursdays 10 pm Eastern on Surf 97.3 FM; Fridays 7 pm Europe, 6 pm UK, 1 pm ET with rebroadcasts Saturday and Sunday on Radio LUX.
The Mal Thursday Quintet Bandcamp page
TWITTER | FACEBOOK | THE MAL THURSDAY SHOW PODCAST ARCHIVES